'THE 'ALL AMERICAN HERO', THE 'KING OF COOL' TO THE WORLD.'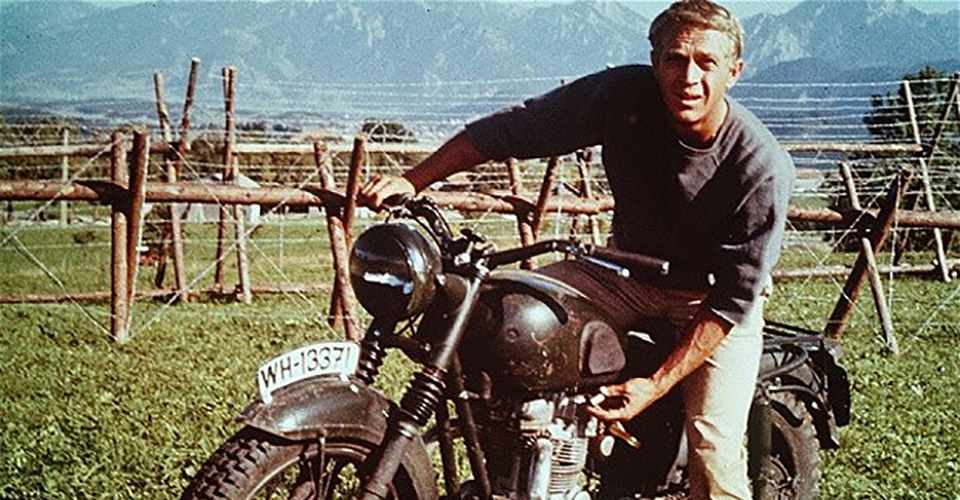 THE MAKING OF AN ICON
Born in 1930, Steve experienced a rough childhood until the California Boys Republic and the US Marines helped turned his life around. These experiences would be crucial in helping Steve relate to many of his future movie roles.
In 1952 he embarked on his acting career in theatre, progressing to Broadway in 1955 and finally making his break in movies in 1956 with 'Somebody Up There Likes Me'. He then went on to star in iconic movies such as 'The Magnificent Seven', 'The Thomas Crown Affair', 'Bullitt', 'Papillion' and of course, 'The Great Escape', which also showcased his great passion of motorcycles.
Steve's image as the King of Cool was not just on screen, but with his personal life the same as his many screen roles. A no-nonsense, straight talking risk taker which was all combined in his love of race cars, motorcycles and desert racing competing in the Baja 1000 and the International Six day trial.
Along with the legendary stunt rider Bud Ekins, Steve prepared his own Metisse Mk3 for racing and always championed the great British motorcycle.

View the re-enacted scene from The Great Escape on the Metisse Steve McQueen Desert Racer
View the re-enacted scene from The Great Escape on the Metisse Steve McQueen Desert Racer
VIEW THE STEVE MCQUEEN DESERT RACE SPEC